Stronger Together: World AIDS Day Breakfast
November 30, 2018 @ 8:00 am

-

9:00 am
Join us for the 15th Annual Stronger Together: World AIDS Day Breakfast on November 30 at the King Street Ballroom.
We will celebrate Seattle's ongoing leadership in the fight against HIV and AIDS, and share how our organizations are investing in emerging needs and trends throughout King County. Seattle is the first city in the world to reach the World Health Association's 90-90-90 goal, where 90 percent of residents infected with HIV know their status, 90 percent of those living with HIV are on HIV antiretroviral treatment, and 90 percent of those on treatment are virally suppressed.
Together, let us make the strongest impact we can by exceeding last year's donations of more than $100,000.
Funds will benefit three of Seattle's leading providers of prevention, care and support to individuals living with and at risk for HIV/AIDS: Gay City: Seattle's LGBTQ Center, Seattle Counseling Service, and CareTeams of Samaritan Center of Puget Sound.
Master of Ceremonies
Paris Jackson, KOMO TV News
Keynote Speaker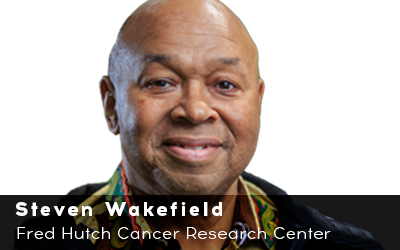 Steven Wakefield, or "Wakefield" as he prefers to be called, is an HIV-negative health care advocate with over thirty years of involvement in projects that increase community participation in HIV prevention research and ethics. Currently, Wakefield participated in the global search for an HIV vaccine as the External Relations Director for Fred Hutch's HIV Vaccine Trials Network (HVTN). He also founded The Legacy Project, HVTN's program to increase racial and ethnic population involvement in trials.
Wakefield is now on the Board of Directors of the Pride Foundation. He initially volunteered with the Pride Foundation as a scholarship reviewer and as a donor. He notes, "There is nothing more heartwarming or heartbreaking than connecting with LGBTQ persons, strengthened by their struggles to creatively find ways to build useful and generous lives. Stories of their quests for higher education always move me to tears, laughter, hope, and inspiration. The love Pride Foundation shows is always reflected in these exchanges."
In addition to his role at HVTN & Pride, Wakefield also serves on AVAC: Global HIV Prevention Board. Working in HIV over 35 years Wakefield is excited about this current time for implementation of evidence-based strategies to end the epidemic. The years before moving to Seattle provided Wakefield with an opportunity to work with youth experiencing homelessness.